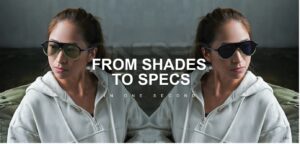 Lacrosse icon Daphne Li Moung King: wearing the timeless Aviator frames
ONESEC Eyewear: ground-breaking technology for a smart vision experience
Lacrosse icon Daphne Li Moung King: wearing the timeless Aviator frames
Endorsed by patented technology, ONESEC eyewear collections redefine the traditional sunglasses industry with a ground-breaking concept. Specially designed electrochromic lenses dynamically adjust to the surrounding light conditions by switching from shades to specs in one second.
Once worn, ONESEC stylish sunglasses conveniently stay on throughout the day whilst continuously adapting to bright and dim light changes in and out of shops, on leisure trips or just commuting journeys.
Unlike the 30-second lag of photochromic lenses, ONESEC's electrochromic technology ensures instant lens tint. Powered by an innovative microchip design, the shades do not require charging and feature an unprecedented battery autonomy of 30,000 hours.
With a variety of unique finishes, ONESEC eyewear blends fashion with comfortable vision at all times. The collection currently sports 3 styles: the timeless Aviator Black, made with TR90, a lightweight thermoplastic material that boasts excellent flexibility and durability; the exquisite Lynx Pink, a classic cat-eye style using fashion-forward premium acetate frames; and the versatile Menpo Black, with its 2-in-1 design that fits over reading glasses or wears alone.
All styles include 99% filtration from harmful UVA/UVB rays and polarised shades for blocking sunlight reflections. With tempered glass lenses and incredibly resistant materials, the ONESEC collection is built for durability.
Contact ONESEC today and discover how to look cool without breaking a sweat:
T   +447584302940 or +447880553155
E  kristina.stoner@me.com
W www.onesec-eyewear.co.uk